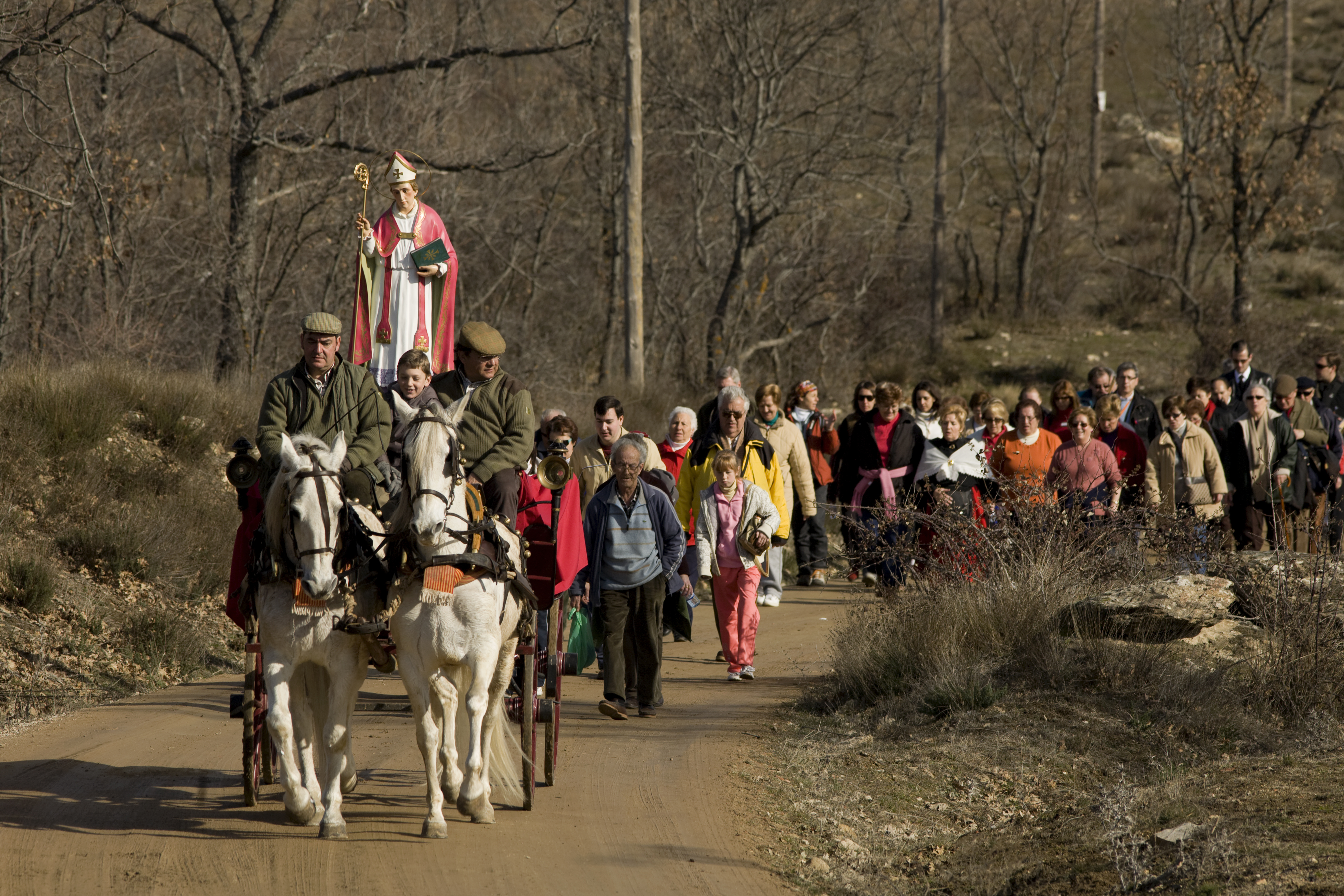 The festive cycle of Miraflores de la Sierra begins on February 3 with the San Blas Festivity. This day recalls the expulsion of the Napoleonic troops from Miraflores de la Sierra. Legend has it that the French forces stationed in Colmenar Viejo assaulted and sacked the town, after the attack the French troops make night where today rises the Humilladero de San Blas. The Mirafloreños and Mirafloreñas, aided by the guerrillas hiding in the surrounding woods, launch a night attack in which they wear cowbells on their backs, simulate a stampede of cattle, making the French flee and recovering the money and jewelery stolen. .
From that day, every February 3, the pilgrimage to the Humilladero de San Blas takes place, in which the dogs with their striking costumes are the protagonists, remembering the courage of their ancestors. It is traditional to eat potatoes with cod and on the way back to the town the party continues with the release of heifers and dancing in the Plaza de España.
May 15 San Isidro, during the s. XVII is beatified and canonized to Isidro de Merlo and Quintana as San Isidro, making the veneration of the Saint popular. In 1960 he is declared patron of Spanish farmers by Juan XXIII. Every May 15th in Miraflores de la Sierra the procession is carried out in his honor through the streets of the town while wheat grains are thrown to bless the fields. Next, an auction of typical local products is held at the door of the church. The party ends at the Plaza de España with dancing and lemonade with cookies.
During the week of August 15 celebrations are held in honor of the patron saint of the town of the Virgen de la Asunción of Miraflores de la Sierra. The Pamplonica Band entertains every moment, the encierros (of adults and children), the popular games, the procession of the Virgin through the streets of the town, and the traditional bullfighting celebrations accompany this celebration.