Fuente del Cura - Hueco de San Blas
Distance: 24.5kilometres (approx.)
Time: 2:30 h (approx.)
Cyclability: 100%.
Average gradient: +4,9% / -4,9%.
This route goes along forest tracks among pine and oak trees and has no very steep slopes.
The trail starts in the centre of Miraflores at the crossroads between the M-629 (Canencia mountain pass) and the M-611 (Morcuera mountain pass).  Head towards the Fuente del Cura recreation area, and on the way, look out for thesplendid, enormous, old melojo oak tree near the river.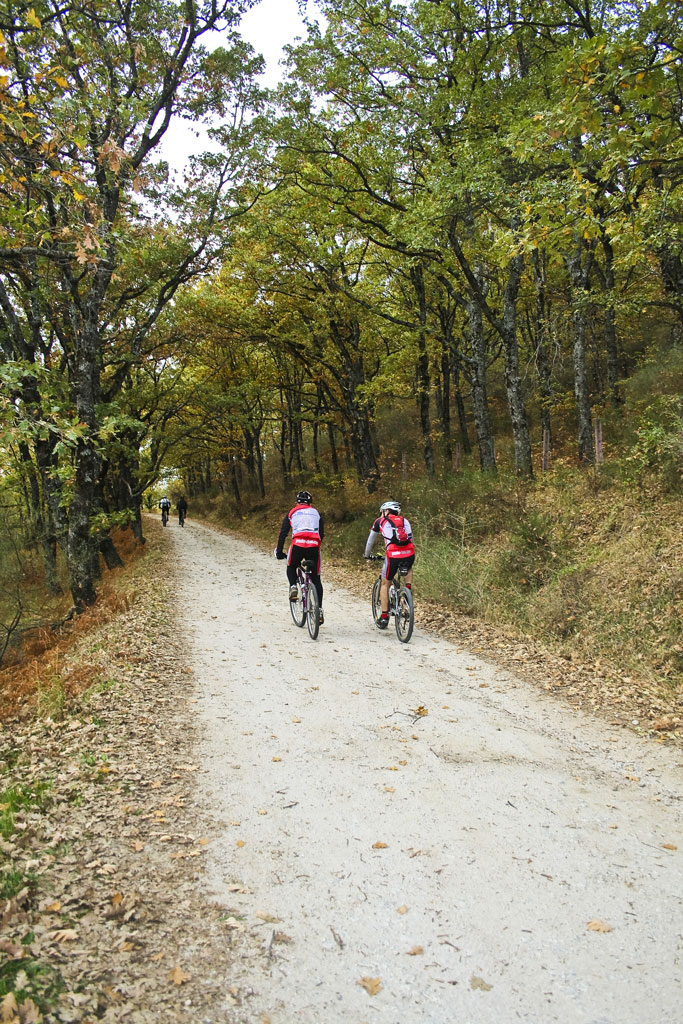 At the crossroads in the Fuente, del Cura, take the upper road on the left. Cycle past the Fuente de la Villa on the right, and continue straight on to the Muñequilla viewpoint.  Here take the right fork and continue until you come to a barrier and cattle grid marking the start of the Aguirre pine forest.  This forest was named after the chief engineer in charge of reforesting the area with Scots pineduring the 20th century.  A short while after crossing the barrier, you come to a path on the right leading up to the Morcuera mountain pass.  Ignore it and insteadgo left downhill.  After passing the odd group of cluster pine trees,start an uphill climb with loose stones on the track which may cause the tyres to skid.  Care should be taken going up andcoming down.
At the top of the climb there is a natural viewpoint, La Atalaya, with impressive views over the Hueco de San Blas, with the rocky peaks of La Pedriza and Asómate a Hoyos dominating the view in the background.  At this point, either take the track on the right which goes around the Hueco,and ends some kilometres later at a hillside known as Las Buitreras, or start to descend on the left-hand track towards the Soto reservoir.  If you take the second option, on reaching the reservoir continue along the Berrocosa track to the San Blas shrine.  At the shrine,join the track youcame along and continue back to the starting point.