Morcuera-Canencia-Bustarviejo Valley-Miraflores
Distance: 41 km
Time: 4 h (approx.)
Cyclability: 100%.
Starting point: Miraflores de la Sierra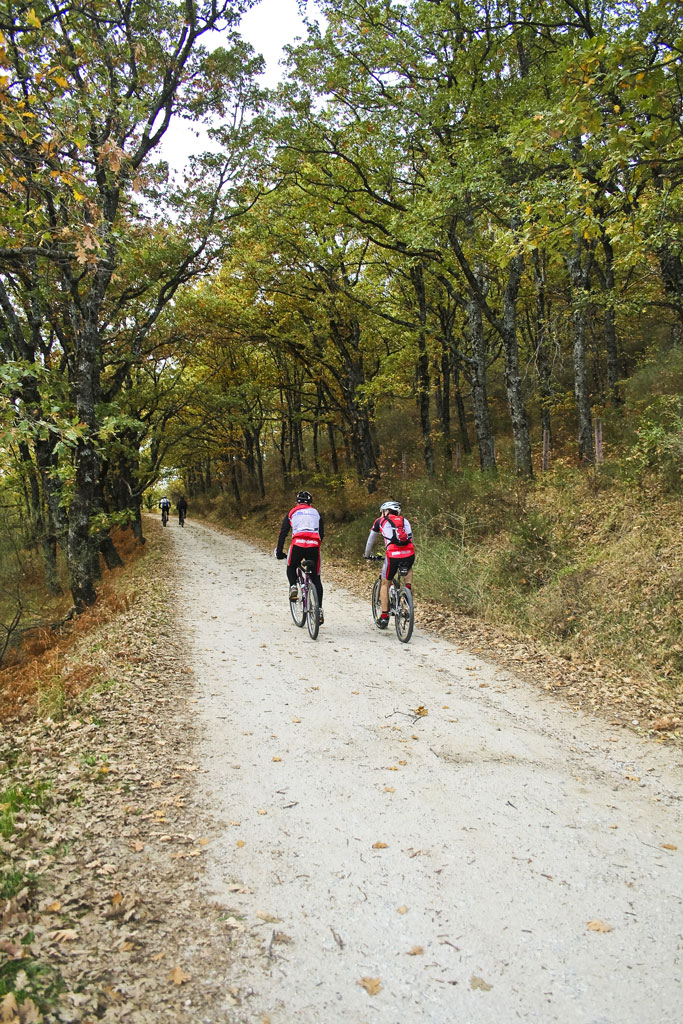 Starting from the Fuente del Curarecreation area, take the higher of the two roads on the left. Pass the Fuente de la Villaand continue up until the road runs out and becomes a dirt track running through an oak forest.  After 3km you reach a barrier and cattle grid marking the start of the Aguirre pine forest.
Where the path forks shortly after the barrier, go right and cycle up the track.  7 km later you come out onto Km 7 of the Morcuera road.  Continue up for 2 kmto the top of the mountain pass and then descend the other side for 2 km.  Take the path on the right-hand side which joins the Morcuera and Canencia mountain passes, cycle down for some metres before coming to the last uphill part of the route.  After 2km, cycle past a track on the left, and continue along the path until the Paso de las Palomas pass.  Descend for 7km along the main track to the Canencia mountain pass.
Turn right onto the main road and cycle down direction Miraflores.  After 4km, take a path to the left by a pine wood, and after some metres, go through a gate.  After 2km,fork right, passing close to the heliport where a team of firefighters is located.
Cross the Bustarviejo-Miraflores road and continue along the track.  Where the path forks, turn right and go downhill towards the campsite.  At the next junction, turn left and cross the river. 200m later, you reach the drove road, or Cañada. Go right and cycle down the Cañada getting closer and closer to the left bank of the river until you reach a concrete bridge in a state of disrepair.  If the water level permits, cross the riverrather than crossing the bridge and continue up along the path on the left until the Sol y Campo housing estate.  Cycle up the street and turn left along the Cañada.
If the water level is too high to cross the river, continue along the pathto the railway line, cross the bridge over the tracks and cycle down to Miraflores train station.  Come out on the other side and cycle up the cobbled road to where it crosses the drove road.  Turn left and cycle along the Cañada.  Before reaching the Miraflores-Guadalix road,go upa track on the right andcontinue until you reach the main road.  Cross over and cycle up a cobbled street towards the Gruta de Begoña.  At the Gruta, turn left and continue straight on until you reach the Fuente del Cura recreation area